Wire Withdrawal Basics
At this time, we are only able to issue wire transfer withdrawals to bank accounts that meet the following criteria:




Registered to a bank in the US, UK, or Canada

The account must be in your name

The minimum amount for a wire withdrawal is $30.

We charge a $25 processing fee for each transfer. This fee applies even if the bank rejects the transfer. In addition, your bank may charge its own processing fee.

Wire withdrawal requests need to be manually reviewed. Please allow for some processing time between submitting a withdrawal request and having the funds deposited in your bank account.

Your bank does not need to be in the country where you reside, but it must be in an eligible country, and the name on the bank account must match the one on your Dapper identity check.

The wire is converted into local currency when it arrives in the bank account. The bank sets the exchange rate.
Adding a Bank Account
To add a bank account (US, UK, or Canada) to Dapper:
Open your Dapper accounts app.
Select 'Payments & Payouts' from the menu on the left.
Scroll down to 'Save your bank details.' Below you will find examples of all three countries.
US CANADA UK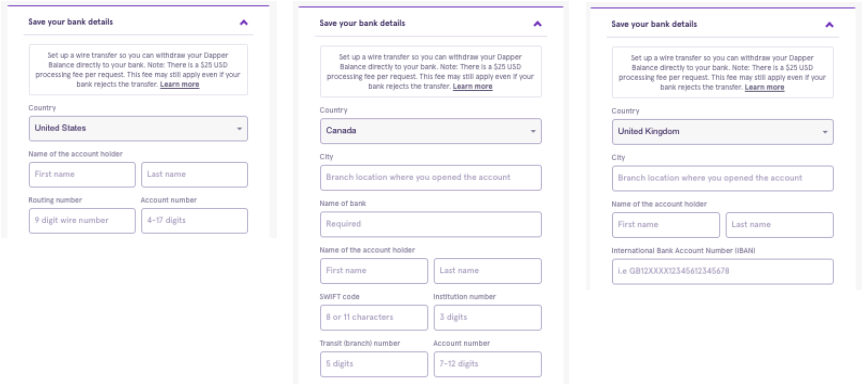 Once there, make sure you include this information:
Name of the account holder: This name must match the name specified on your bank account.
Account number: This is your unique identifier at your bank. It is often the middle number on the bottom of a check and is usually 4-17 digits in length.
Billing address: This billing address must match the billing address you've given to your bank.
Routing / IBAN / Swift number: This number is based on the location of your bank account. If your bank provides multiple routing numbers, please use the one for domestic wire transfers.
Additional Information
To learn more about other possible delays or any potential issue, please refer to this Help Center guide: Why haven't I received my wire transfer?
If you do not have a bank account in the US, UK, or Canada that can receive wire transfers, you can convert your Dapper Balance to USDC and send the tokens to any Ethereum wallet address that can accept USDC.

Please Note: USDC withdrawals are not yet available in New York, Hawaii, Minnesota, and Alaska. More on USDC withdrawals here.

To avoid delays or your bank rejecting the wire transfer, we recommend that the following information match:




The name used to complete the Dapper Identity Check

The name your bank has on file

The name entered when completing your withdrawal request

This means that the name entered when completing a withdrawal request must match the name on your bank account. Withdrawals made to a joint bank account may be delayed or returned.

Please Note: If you have a preferred name that you typically use, please make sure to enter the full legal name that your bank has on file. Please see the table below for clarification.
Name
Will the transfer succeed?
Dapper Identity Check
Withdrawal Request
Bank Account

William Doe
Bill Doe
William Doe

No
Dapper Identity Check
Withdrawal Request
Bank Account
William Doe
William Doe
Bill Doe
No
Dapper Identity Check
Withdrawal Request
Bank Account
Bill Doe
Bill Doe
William Doe
No
Dapper Identity Check
Withdrawal Request
Bank Account
Bill Doe
Bill Doe
Bill Doe
Yes
Dapper Identity Check
Withdrawal Request
Bank Account
William Doe
William Doe
William Doe
Yes