A Moment exists as part of an Edition with a total circulation count.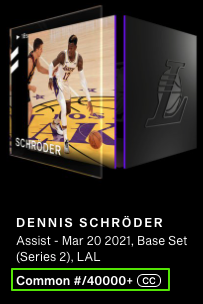 Each Moment is minted with an individual serial number securing its own uniqueness equal to that of physical memorabilia.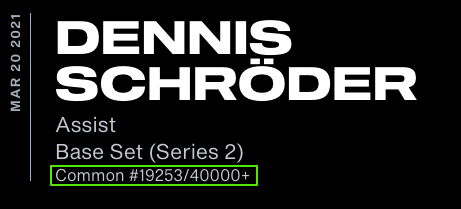 Rare and Legendary Moments are issued with a Limited Edition Size (LE). These are predetermined and will no longer be minted.
Common Moments are Minted up to a Circulating Count (CC) and can increase. However, as the season progresses a player's Moment can be Retired to make room for another highlight. At this point, the moment will move from CC to LE.
CC - The Moments Edition is currently a "Circulating Count"
LE - A "Limited Edition" Moment where no more can ever be minted.
For more information about Retired Moments check out the blog post: Series 2 Ends Friday
You can find Moments in both packs sold directly by Top Shot or for sale by other collectors in the Top Shot Marketplace.