‍Referrer Eligibility
‍To be eligible to participate in the Referral Program as a Referrer, you must have all of the following:
Be an existing NBA Top Shot and Dapper Wallet user and have successfully verified your identity
Maintain an NBA Top Shot and Dapper account in good standing
Be a legal resident of and be presently located in the United States, Canada, or Australia
Be of the age of majority in your territory of residence.
However, if you violate the Program Rules, the Terms of Use, or any other applicable terms, Dapper may suspend or terminate your ability to participate in the Referral Program.
How Does it Work?
When you log into your NBA Top Shot account, you can click on the Community drop-down menu from the top bar and select the Invite a Friend button. This will give you a personalized link to share with your potential referrals.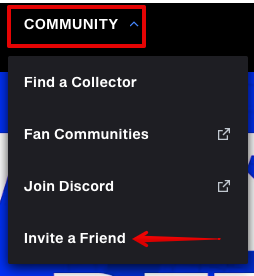 When any of your potential referrals sign up using your link, completes their Identity Check, and makes a pack purchase; you will both receive $15 in non-withdrawable NBA Top Shot credit directly to your Dapper Wallet. Collectors will receive the credits in their accounts within 7 days of completing all requirements.
NBA Top Shot Referral Program Rules
To view the NBA Top Shot Referral Program rules, click here.