Trade Tickets are an NBA Top Shot feature providing utility for Moment™ NFTs. Collectors can trade a Moment for a Trade Ticket to then secure exclusive packs. You cannot buy, sell, or gift Trade Tickets, and they are only acquired by trading in a Moment.
Each Moment, regardless of the Moment's rarity, is valued at one Trade Ticket only.
To view the number of Trade Tickets in your possession, click on your profile picture in the top right corner.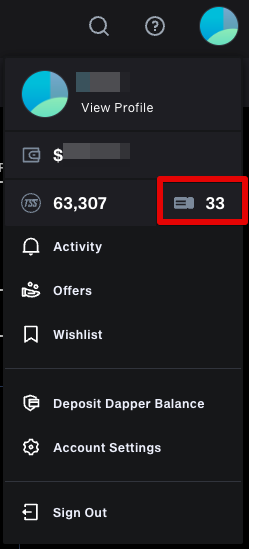 Trade Tickets can also be seen on your profile page under Moments.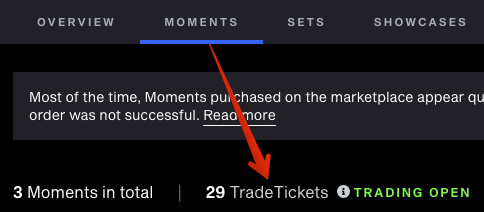 Collectors are able to trade in multiple Moments in a single transaction (up to 50 Moments).
NBA Top Shot 101: Trade Tickets
For more details on how to get Trade Tickets, check out our article here.
FAQ
How is a record kept of which Moments were exchanged and how many trade tickets I have?
This record can be viewed in your activity feed, and you can view how many Trade Tickets you have by hovering over your account icon.
Will my Trade Ticket expire?
No, Trade Tickets do not expire.
How do I get a Trade Ticket?
Trade Tickets are earned by trading in any single NBA Top Shot Moment and receiving a single Trade Ticket. Each Moment traded-in is equal to 1 Trade Ticket, regardless of Series, Tier, Serial Number, etc. Moments that are listed on the Marketplace or locked cannot be traded in.
Can I reverse a Trade-in?
No, all Trade Ticket transactions are irreversible and we recommend only selecting Moments you are sure you want to trade in.
Where do my Trade-in Moments go?
All Moments traded-in go to The Locker Room, a virtual NBA Top Shot warehouse. Moments that go into this virtual warehouse can be viewed under the NBA Top Shot account

The Locker Room.

Moments in The Locker Room will only ever become available by spending at least one Trade Ticket.
Can I send Trade Tickets to my friends?
No, Trade Tickets are non-transferrable.
What are Trade Tickets worth?
Trade Tickets have no monetary value and CANNOT be listed on the NBA Top Shot Marketplace.
What can I purchase with Trade Tickets?
Currently, you can purchase Locker Packs with your Trade Tickets. Additional uses for Trade Tickets may come at some point in the future.
Why Trade Tickets?
Trade Tickets add a new dimension of strategy to NBA Top Shot, as they will lower the active circulating supply of Moments on Top Shot. Moments that are traded in will become denoted as "Unavailable for Purchase" in the Moment's collectible details. At some point, many of these Moments will make their way into Locker Packs or other future packs and will then become denoted as "In Packs" in the Moment's collectible details.
Are they NFTs?
No, Trade Tickets are not NFTs and are not on the blockchain.
What is a Locker Pack?
A Locker Pack is a special pack made up of Moments from our NBA Top Shot Locker Room. These packs will contain Moments that were traded in from collectors for Trade Tickets.




The intention is to have Locker Packs available most of the time. There will be a Locker Pack listing for these drops where you can find all the important information regarding contents, eligibility, price, etc.
How do I join the queue for Locker Pack?
Joining the queue for a Locker Pack will be the same as most pack drop queues, however, to enter, you will need at least enough Trade Tickets to buy a pack.
How much will it cost to purchase a Locker Pack?
Currently, 4 Trade Tickets are required to purchase a 3 Moment Locker Pack however, this may change and it is recommended to check on the pack page to confirm.
How many Locker Packs can I purchase?
Locker Pack purchase limits can be seen directly on the pack drop page under the "How Many Packs Can I Purchase Per Transaction?" heading.
Will I be able to see all Moments going into Locker Pack?
Before each Locker Pack Drop, there will be a list of the Moments that are included in these packs on the pack listing page for the specific Locker Pack Drop (while supplies last).
I had an issue with a Trade Ticket drop! Can I get a second chance to purchase?
Due to the unique and exclusive Trade Ticket approach to these pack drops, reservation links are not possible. In the unexpected case of an error or failure at the point of purchase, collectors will be able to keep all of their Trade Tickets.