Trade Tickets are an NBA Top Shot feature providing utility for Moments. Collectors can trade a Moment for a Trade Ticket. You cannot buy, sell, or gift Trade Tickets, and they are only acquired by trading in a Moment
Each Moment, regardless of the Moment's rarity, is valued at one Trade Ticket only.
Trade Tickets can be accumulated and used to secure exclusive packs.
To view the number of Trade Tickets in your possession, hover over the Account icon in the top right corner.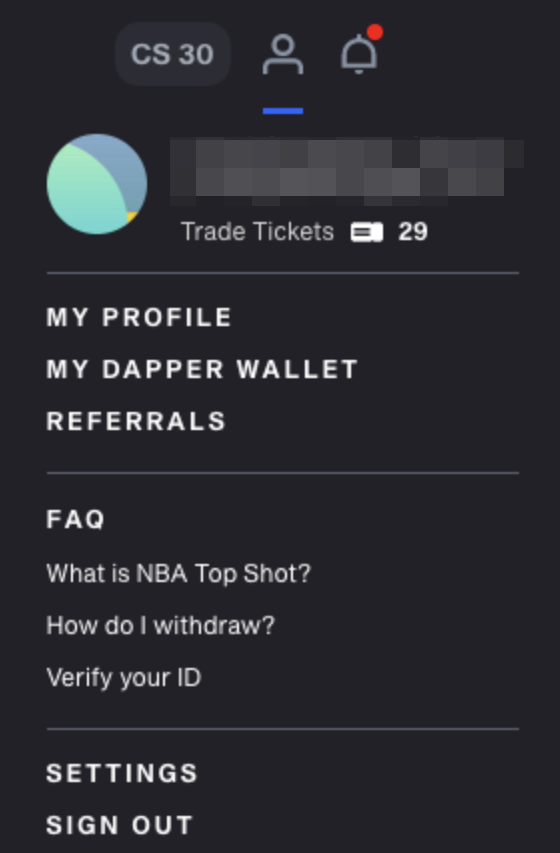 Trade Tickets can also be seen on your Collector Page under Moments.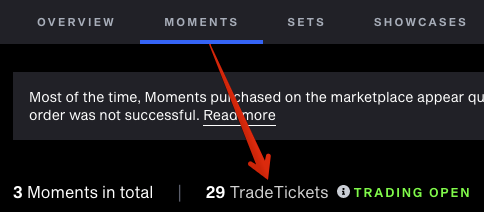 Collectors are able to trade in multiple Moments in a single transaction (up to 50 Moments).
FAQ
How is a record kept of which Moments were exchanged and how many trade tickets I have?
This record can be viewed in your activity feed, and you can view how many Trade Tickets you have by hovering over your account icon.
Will my Trade Ticket expire?
No, Trade Tickets do not expire.
How do I get a Trade Ticket?
Trade Tickets are earned by trading in any single NBA Top Shot Moment and receiving a single Trade Ticket. Each Moment traded-in is equal to 1 Trade Ticket, regardless of Series, Tier, Serial Number, etc.
Can I reverse a Trade-in?
No, all Trade Ticket transactions are irreversible and we recommend only selecting Moments you are sure you want to trade in.
Where do my Trade-in Moments go?
All Moments traded-in go to "The Locker Room", a virtual NBA Top Shot warehouse. Moments that go into this virtual warehouse can be viewed under the NBA Top Shot account "

The Locker Room

.

" Moments in The Locker Room will only ever become available by spending at least one Trade Ticket.
Can I send Trade Tickets to my friends?
No, Trade Tickets are non-transferrable.
What are Trade Tickets worth?
Trade Tickets have no monetary value and CANNOT be listed on the NBA Top Shot Marketplace.
What can I purchase with Trade Tickets?
Currently announced plans for Trade Tickets include Series 1 Reserve Packs and Locker Packs. Additional uses for Trade Tickets may come at some point in the future.
Why Trade Tickets?
Trade Tickets add a new dimension of strategy to NBA Top Shot, as they will lower the active circulating supply of Moments on Top Shot. Moments that are traded in will become denoted as "Unavailable for Purchase" in the Moment's collectible details. At some point, many of these Moments will make their way into Locker Packs or other future packs and will then become denoted as "In Packs" in the Moment's collectible details.
Are they NFTs?
No, Trade Tickets are not NFTs and are not on the blockchain.
Stress Test, Locker Packs, and Series 1
When will Series 1 Reserve Pack Drops arrive? How much will they cost?
Time: When the next NBA regular season is in full swing!
Price: Our first Series 1 Reserve Pack Drop will have an anticipated price of around 300-500 Trade Tickets. Future Series 1 Pack Drops may cost more or less than that range, depending on economic aspects, read more about this in our Economist Blog post covering all things Trade Tickets!
What if I don't get a Series 1 Reserve Pack?
If you are unable to snag a Series 1 Reserve Pack in the initial queue, you will NOT lose your Trade Tickets and you will have the opportunity to use those Trade Tickets to purchase Locker Packs or hold them to use in the future. Note that you will be unable to join the Series 1 Reserve Pack queue unless you have already acquired enough Trade Tickets to be able to purchase the pack.
What is a "Locker Pack"?
A Locker Pack is a special pack made up of Moments from our NBA Top Shot Locker Room. These packs will contain Moments that were traded in from collectors for Trade Tickets, and at this time, these upcoming Locker Pack drops will be limited to Base Set Series 2 Moments.




The intention is to have Locker Packs available most of the time. There will be a Locker Pack listing for these drops where you can find all the important information regarding contents, eligibility, price, etc.
Can Locker Packs contain Moments from different tiers or series?
The first two waves of packs will contain only Base Set Series 2 Moments and future packs with different compositions will not necessarily have the same cost in Trade Tickets.
What are the important details for the upcoming Locker Pack Stress Test?
Date/Time: Oct 1, 2021 at 12:00 PM PDT
Contents of Locker Pack: 3 Traded-in Base Set Series 2 Moments
Price: 3 Trade Tickets
Eligibility to enter queue: 3 Trade Tickets
Pack(s) Per Collector: 1
Trade Ticket window: Trade Ticket Launch until 9:30 AM PDT 9/20
How long do I have to collect the 3 Trade Tickets for the upcoming stress test?
The trade-in window will be open from Trade Ticket launch until 9:30 AM PDT Monday morning for the Locker Pack Stress Test. In the future, we will give ample notice for upcoming drops, so you have plenty of time to trade in Moments for Trade Tickets prior to the feature closing before the drop.
How do I join the queue for "Locker Packs"?
Joining the queue for a Locker Pack will be the same as most pack drop queues, however, to enter, you will need at least enough Trade Tickets to buy a pack.
Why do we turn off trade-ins for Trade Tickets prior to our Locker Pack Drops?
This feature is turned off to allow us to repack all the traded in Moments in our Locker Room and prepare for the drop, so if you want to join the queue for the stress test make sure you get your 3 Moments traded in prior to the cutoff.
Will all Locker Packs be 3 Trade Tickets for 3 Moments?
No, after the stress test of 3 Trade Tickets for a 3 Moment Locker Pack, the next wave of Locker Packs will be 4 Trade Tickets for a 3 Moment Locker Pack. This is due to the economic aspect of Trade tickets, as they figure to lower the active circulating supply of Moments on Top Shot.
Will all Locker Packs be limited to one per Collector?
No, in the future we will give Collectors the opportunity to grab more than one, and we will give Collectors ample time to see any limits to pack purchases for these Locker Pack Drops.
Will I be able to see all Moments going into "Locker Packs"?
Before each Locker Pack Drop, there will be a list of the Moments that are included in these packs on the pack listing page for the specific Locker Pack Drop (while supplies last).