Top Shot Leaderboards allow collectors to build up their collection in order to climb WNBA and NBA Leaderboards connected to their favourite teams and players. Each Leaderboard features different requirements to participate such as locking, burning or collecting Moments so be sure you understand the rules of the particular Leaderboard before participating. You can check out all available Leaderboards here.
Please Note: Locking or burning Moments can be done up until the snapshot deadline. Once the deadline is over, all locks or burns that were submitted within the eligible timeframe will take a few minutes to calculate after the deadline as transactions are completed on the blockchain. Collectors may see their positions fluctuate as the final results are being tallied however, we will let collectors know when the final results are posted.
NBA Top Shot 101: Leaderboards
Viewing Leaderboards
To view the Leaderboards, navigate to the Play tab and select the Leaderboards page.
Team and Player Leaderboards
Collectors will earn points for every Moment they lock, based on the Moment's corresponding Top Shot Score (TSS) value. Each Top Shot Score point will equal one point on every matching Leaderboard. Locked Moments will earn you TSS points on both Team and Player Leaderboards. A locked Moment cannot be sold, gifted, transferred, redeemed or used in a Crafting Challenge. To learn more about Locking, click here.
By locking Moments associated with Team Checklists, collectors will receive bonuses to their team scores that do not affect their Top Shot Score. For every Team Checklist a collector completes, they are awarded Team Score for the corresponding team, as follows:
10,000 points for completing each Team Series Checklist

20,000 points for completing the Contemporary Team Checklist

25,000 points for completing the All-Time Team Checklist
Team Checklists for a given Series are only available at the conclusion of that Series. For example, WNBA Contemporary Checklists will become available once Series 4 has concluded (to account for multiple Series) and only update at the conclusion of a Series from then on. To learn more about how to view your Team Checklists, click here.
The only way to shoot up these Leaderboards is by locking Moments. If you lock any Moment into your collection, you will earn points on the Moment's Team Leaderboard and Player Leaderboard (so long as the Moment is associated with a qualifying team and player). When you lock a Moment, you'll be committing to locking the Moment to your account (i.e. no gifting, listing, consuming in a crafting Challenge, redeeming or withdrawing to a non-custodial wallet) for an extended period of time.
All players with a Moment on Top Shot will have Leaderboards that showcase their top fans, but only select players' Leaderboards will come with rewards, as these rewards will be directly tied to the player earning accolades in the upcoming season. Collectors can expect exclusive airdrops and groundbreaking rewards to those who rank highly on the Leaderboards, distributed periodically throughout each year.
Burn Leaderboards
Burn Leaderboards allow collectors to trade in eligible locked and unlocked Moments to be burned in return for points on the respective Leaderboard to help you climb the ranks.
To participate in Burn Leaderboards, you will need to collect qualifying Moments and then use the trade-in tool to secure your points on the Leaderboard. Qualifying Moments listed for sale must be delisted prior to being eligible to be burned. For more details on how to trade in Moments, check out our article here.
Some Burn Leaderboards will only burn the Moments you submitted if you have climbed the ranks to become a Winner when the timer ends on that Leaderboard.
Please Note: Winners who have Moments submitted to be burned on the Leaderboard will not have Trade Tickets provided in exchange for their burned Moments.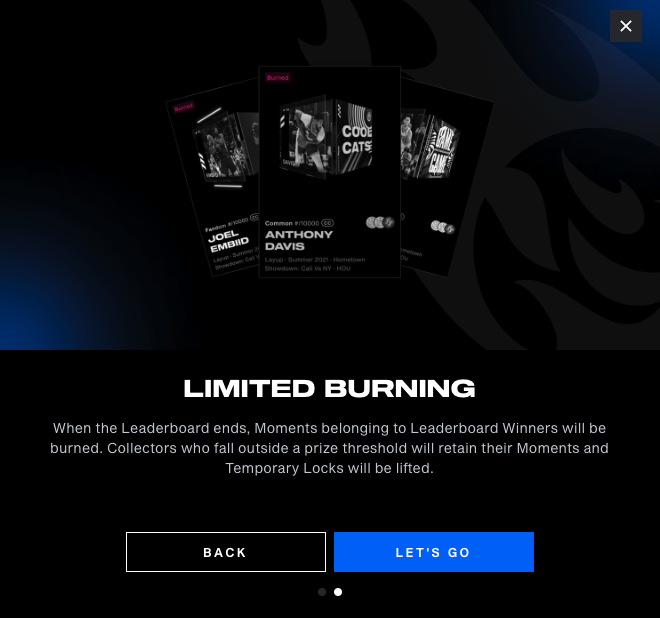 The Moments you decide to submit will also have a Temporary Lock added until the end of the respective Leaderboard which means that the Moments cannot be sold, gifted, transferred, redeemed or used in a Crafting Challenge. Along with the Temporary Lock indicator in the top left corner, you'll also be able to see that your Moment has been greyed out to indicate that it has been submitted to the Leaderboard.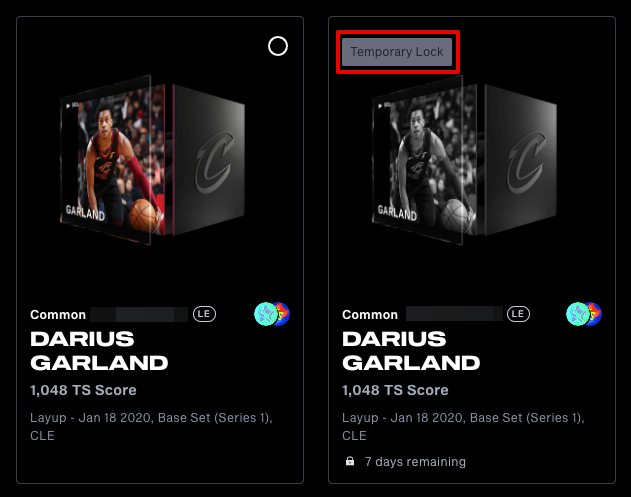 If you are not a Winner and fall outside the prize threshold, the Moments you submitted will have the Temporary Lock lifted within a couple of hours after the Leaderboard ends. If it has not been lifted within a couple of hours after the Leaderboard ends, please feel free to contact our support team for further assistance.
Please Note
Locking a Moment does not remove the Top Shot Score value associated with your Moments

You can only unlock a Moment after the lock duration (1 year from the day you locked the Moment). See our article Unlocking Moments for more details.

You can rank on as many Leaderboards as you'd like to pursue

If there is a tie, the winners are ordered by the time of their last submission

It can take up to 24 hours for bonuses to be applied to your account

All-Star VIP NFTs are worth at least 250k Top Shot Score on their respective Team Leaderboard

Qualifying Moments listed for sale must be delisted prior to being eligible to be burned on a Burn Leaderboard