Set Locking Challenges allow collectors to receive rewards for locking required Moments to complete the Challenge instead of placing them into the traditional Challenge builder.
Completing a Set Locking Challenge
Head over to the Challenge page here and from there you can view the list of all the available Challenges. Set Locking Challenges will have a purple lock underneath the Challenge name so you can easily identify them. A description of the Challenge requirements and reward will also be provided on the Challenge page. Once you've selected the Challenge you'd like to complete, click on the Earn Now button.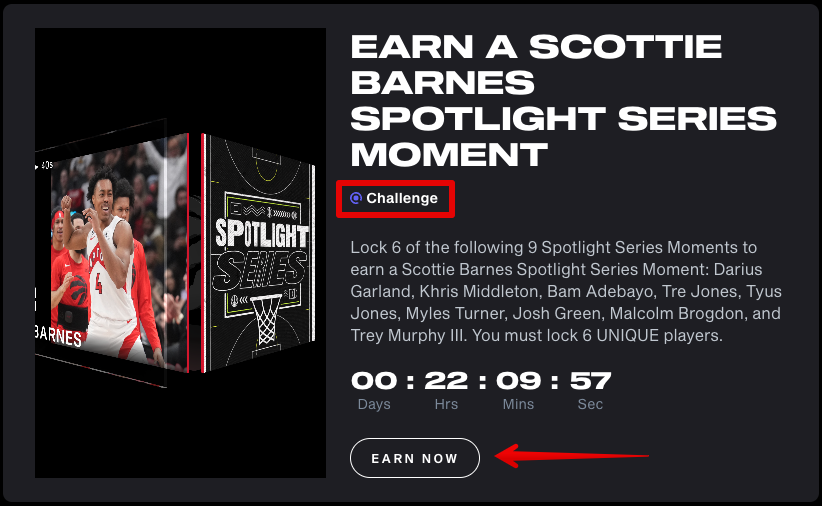 Since Set Locking Challenges do not use a Challenge builder, you will be taken to your set collection where you can view the Moments that you already own and have locked or Moments that you don't own yet. On the left-hand side of the page, you will see all details about this Challenge including how many Moments you have already locked and added to this Challenge, the countdown timer, what the reward is and the requirements needed to complete this Challenge.
Once you click on the Enter Set Challenge button, you will be taken to the locking page where you can easily find and lock the required Moments that you own. For more details on how to lock, check out our article here.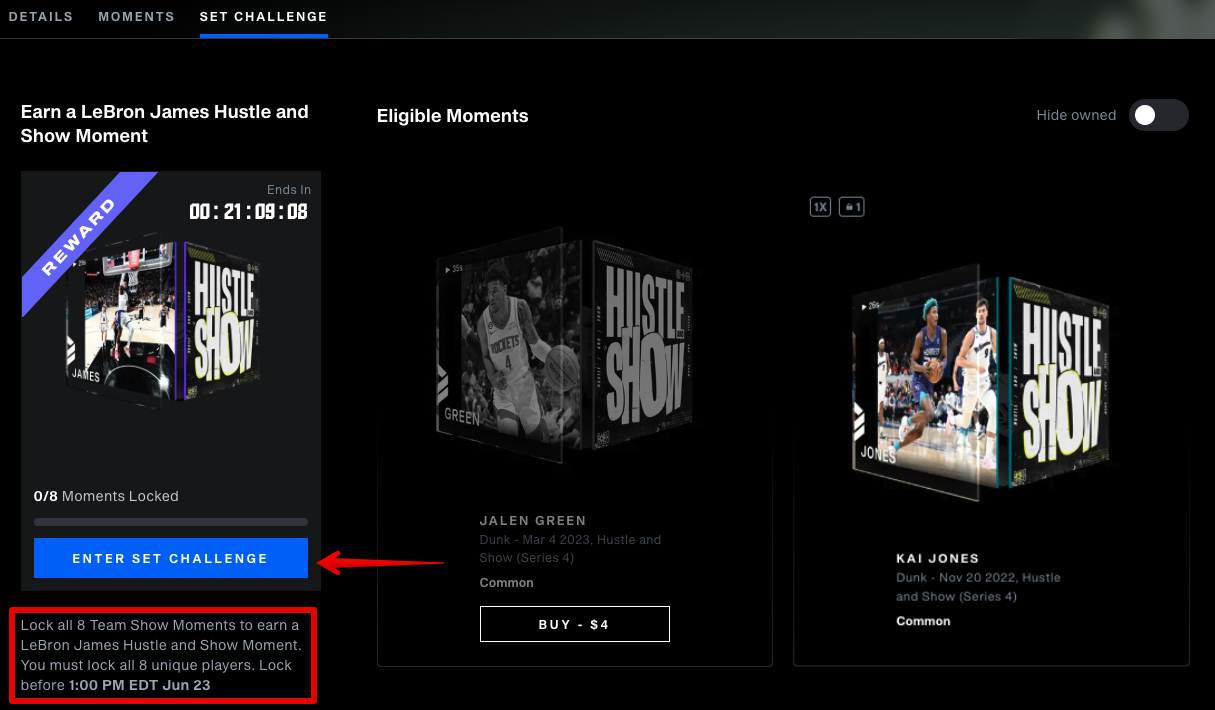 On the right side of the page, Moments that you already own will be shown in full colour with a number in the top right corner indicating how many you own. If you own the Moment and have already locked it, you will see a lock icon and a number indicating how many of that Moment you have locked. If you don't own a required Moment, you can click on the Moment that is greyed-out and you will be taken to the Marketplace listing to purchase.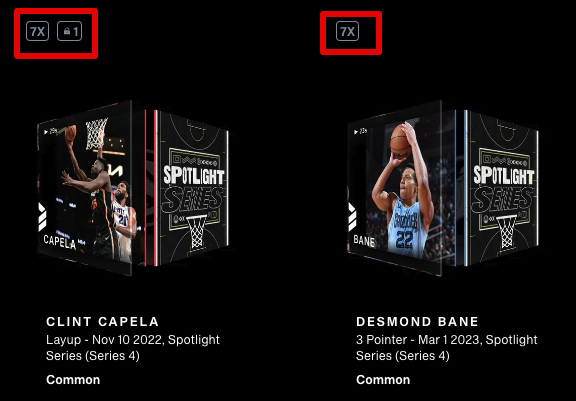 General Information
Locked Moments cannot be sold, traded, gifted, withdrawn, redeemed or consumed via a Crafting Challenge for 1 year. This action cannot be undone.
Locking a Moment does not remove the Top Shot Score value associated with those Moments.
You can only unlock a Moment after the lock duration (1 year from the day you locked the Moment).
If a Moment is locked, that Moment will automatically get delisted from the Marketplace.
If you receive an offer on a locked Moment, you will not have the ability to accept or reject the offer anymore. If somehow the transaction is attempted, the transaction will fail.
Please ensure that you read and understand all of the requirements before completing a Set Locking Challenge as they may vary for each Challenge.
You can use previously locked Moments for Set Locking Challenges.
It may take some time for the Challenge page to update and show you have locked the required Moments so you may need to check back later.
When completing Challenges, we always recommend doing so well in advance. Waiting until the last minute increases the risk of potential errors.
We always recommend confirming that you have locked the required Moments for the Challenge at least once before the deadline.
Set Locking Challenges do not show up in the previous or completed section of the Challenge page once the deadline is over