Challenges are an opportunity to show off a specific selection of Moment™ NFTs that give collectors a chance to earn exclusive prizes, packs, or Moment™ NFTs. Flash Challenges are a type of Challenge based on the stats and events of NBA games. Prizes that are specific Moment™ NFTs will become Challenge Rewards indicated by the icon below.
Note: All previous Moments earned from Quests (the previous term for Showcase Challenges) will not be designated as Challenge Rewards.
On the Challenges page, collectors will be able to view active Challenges, previous Challenges, and completed Challenges. The Active Challenges section will display ongoing challenges along with their associated Challenge Reward, time remaining on the Challenge, and Challenge progress.
Using the Challenge Builder
To access the Challenge Builder, collectors can navigate to the respective Challenge's page and select Complete Challenge Entry.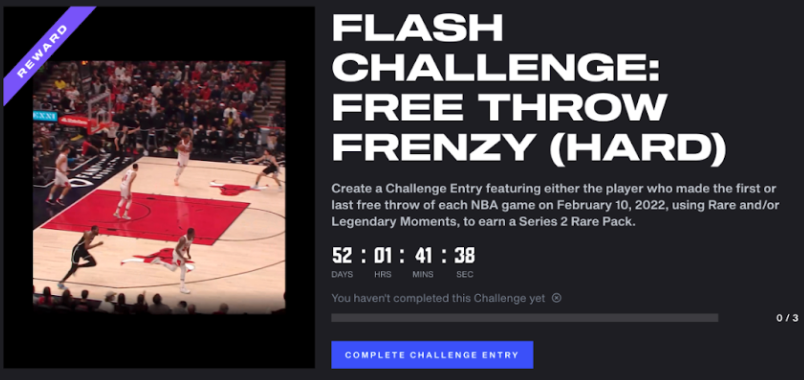 From there, collectors will be able to see the Moments required for the Challenge, their progress, any Moments owned that are eligible for the selected slot, as well as a link to the Marketplace to purchase any Moments that are eligible.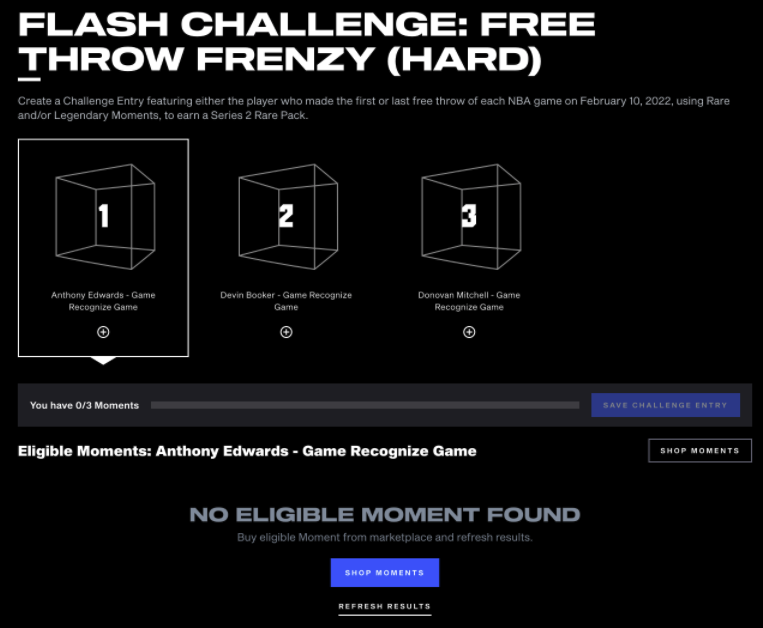 General Information
Challenges are experimental in nature. Relevant requirements and prizes will often change from one Challenge to another. Please refer to each Challenge for the most up-to-date rules for each one.
Challenge Entries can be created by using the Challenge builder feature. This is the only way to create a valid submission for the Challenge.
Your collection is automatically filtered to only show eligible Moments when creating a Challenge Entry.
When completing Challenges, we always recommend doing so well in advance. Waiting until the last minute increases the risk of potential errors.
We also recommend verifying that your entry still contains all required Moments before the snapshot. You can do so by navigating to the Challenges page and checking to see if you have a green bar. If the bar is white, you have not successfully submitted your entry and will need to do so before the snapshot.
In order to stay eligible for the Challenge, please do not list any of the required Moments for sale, gift them, or trade them in until after the Challenge has finished and any relevant prizes have been delivered.
If one of your Moments is already listed for sale, you can still add it to a new Challenge Entry. However, if you do, you will see a warning about how this could affect your eligibility. If the Moment sells during the Challenge, your entry would not be eligible unless you are able to replace the Moment with another eligible one before the deadline. Due to this risk, we recommend only adding Moments that are not actively listed. Delisting should always be done before adding a Moment to a Challenge Entry.
Some Challenges will only last 24 hours, while others may last multiple days. The duration of future Challenges may be longer or shorter. As always, please confirm all parameters on the Challenge page.